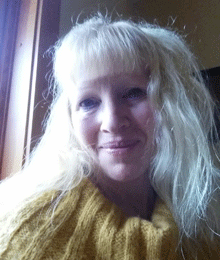 "Pretending to Be a Poet" will be published in When the Colours Run (Black Moss Press, 2015).
© 2015 Lisa Shatzky


Lisa Shatzky's poetry has been published in The Vancouver Review, Room Magazine, Quills Canadian Poetry Magazine, The Nashwaak Review, Antigonish Review, The Dalhousie Review, Canadian Literature, Canadian Woman's Studies, The Prairie Journal, Jones Av., Grain, The New Quarterly, Monday's Poem, and six chapbooks by Leaf Press (edited by Patrick Lane) along with anthologies across Canada and the US.

Her poetry book Blame it on the Moon was published by Black Moss Press in 2013 and was short listed for the 2014 Acorn Plantos Award for People's Poetry. Her poetry book Do Not Call Me By My Name (Black Moss Press, 2011) was shortlisted for the Gerald Lampert Poetry Award. Shatzky has also had prose published in Living Artfully: Reflections from the Far West Coast (Key Publishing, 2012) as well as poetry in This Island We Celebrate, (Bowen Island Arts Council, 2013).

When not writing she runs marathons as a way of meditation and works as a psychotherapist on Bowen Island, where she lives on a boat with her partner Don, her teenagers, a dog called Sherman and 3 cats.
Pretending to be a Poet

Sitting at an outdoor cafe and pretending to be a poet
what I mean is I sit here with my pen and paper
at a small table under a maple tree in the village
and I do not write.
instead I watch all the people walk by
as if caught in a current, a steady flow of back and forth
they come and go movement upon movement
this life force of which I am part
this moving into and stepping away
this being part of something
and sitting at this table pen and paper in hand
and wanting to say something about the people or myself
or the movement or what I see or don't see
and not knowing where to begin except with a question
the one I think we are all asking
though don't ask me what it is because on most days I can't remember
but it sounds like the bell of an old cathedral
or maybe it is the sound of tree frog
I can't tell the difference anymore
but there is a question we are all asking
maybe it is the first sigh when awakening in the mornings
as the light first enters your room
or maybe it is the sound a turtle makes when it dies
a long melodic yearning sound

or something like that

but even longer.
---