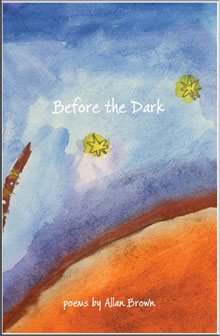 Hi-Res Front Cover
Hi Res Author Photo
Cover Spread
Sample Pages 18-19

Poetry Lovers:
Please ask for this book at your favourite bookstore. If it is not there you can order from Leaf by clicking below.
Shipping is free.
Paypal allows for payment by Visa (no Paypal account required). Or email orders@leafpress.ca.


c


5.5 x 8.5 inches | 52 pp | 978-1-926655-65-9 | $13.00
Before the Dark

by Allan Brown
"... an unguarded eloquence of personal revelation
that is both captivating and endearing"
—Patrick Jamieson
"Allan Brown's triad of poetic meditations, written from the liminal places of loss and grief, demonstrates a finely tuned attention to the natural world. In tone, form, and allusions the collection is classical in the best sense of the word. It is simultaneously an elegy for the poet's wife Pat (1932–2011) and a postmodern exploration of language, memory and consciousness. The dark-light force field these poems create allows us to re-enter our common humanity with tenderness and compassion. As Brown puts it of his various lost companions, "tender [is] their true tinder."
—Susan McCaslin, author of Demeter Goes Skydiving
"With an exquisite musicality, Allan Brown's poems engage the powers of memory and imagination, even "at the edge … of darkness," to trace and to evoke the presence of those who have departed but are never wholly gone."
—Allan Briesmaster, author of Against the Flight of Spring.
Allan Brown was born and raised in Victoria, BC, and presently lives in Powell River. His poems have been published in various Canadian and American forums since 1962 and are partly collected in twenty-three books and chapbooks. He is a member of the Federation of BC Writers and Haiku Canada.
Photograph of Allan Brown
by Pat Brown