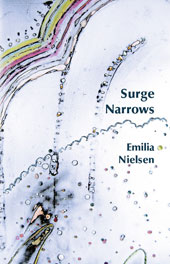 Hi-Res Author Photo
Hi-Res Front Cover
Back Cover
Excerpts from:
"Pass Creek"
Page 37
Page 38
"Vernacular Hearts"
Page 67
Page 68
Page 69
Link to Author's Website:
www.emilianielsen.com


Poetry Lovers:
Please ask for this book at your favourite bookstore. If it is not there you can order from Leaf by clicking below.
Shipping is free.
Paypal allows for payment by Visa (no Paypal account required). Or email orders@leafpress.ca.
April 2013 | 5.5 x 8.5 | 80 pp | 978-1-926655-59-8 | $16.95
Surge Narrows

by Emilia Nielsen
Shortlisted for the 2014 Gerald Lampert Memorial Award

"Surge Narrows is gorgeously sensual and sharply precise—
if we could taste it, this book would be salmonberry. It would be salt. To read these poems is to stand under a waterfall, letting
the words rush like cold, clean water over the skin.
A powerful debut."
Anne Simpson

Surge Narrows opens with "Surge," a fragmented narrative of coming of age in the remote coastal community of Surge Narrows, and closes with the series "Vernacular Hearts," which explores a queer cityscape.

Between these frames, Surge Narrows engages various emotional and physical terrains, and this disjuncture is perhaps best exemplified by the anti-lyrics of "Disquiet" and "Sensorial." "Pass Creek" explores wilderness solitude and the geography of place at a northern Alberta fire tower site. In "Indifferent Season" the lyric poem aspires to not just distillation of language, but close observation and pitch perfect diction.

Emilia Nielsen is a faculty member at Quest University Canada as a Teaching Fellow in 2013-2015. She holds a BFA in Writing from the University of Victoria, a MA in English and Creative Writing from the University of New Brunswick and a PhD in Gender, Race, Sexuality and Social Justice from the University of British Columbia. Her poetry has appeared in literary journals including The Antigonish Review, Contemporary Verse 2, English Studies in Canada, Event, Descant, The Fiddlehead, Grain, Prairie Fire, Room Magazine, and was nominated for a Pushcart Prize in Poetry by PRISM international.

An excerpt from "Vernacular Heart"s on Rob Taylor's blog
spread it like a roll of nickels is here
The sensuality and splendour of the natural landscape the poems so beautifully evoke is mirrored by that of the human body, of the erotic, of "Spread and winged, my hand /searching the small of your back."
Casey the Canadian Lesbrarian: A Queer Canadian Book Blog: News and Reviews of Queer Canadian Writers and Books link here.
"The heart has never surfaced more queer": A review of Emilia Nielsen's poetry collection Surge Narrows by Casey the Canadian Lesbrarian is here.
Emilia Nielsen interviewed by Caity Goerke The F Word: Feminist Media Collective Vancouver Co-op Radio here