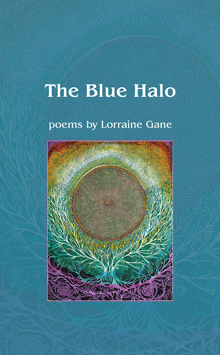 Click for Hi-Res Front Cover
Click for Hi-Res Author Photo
Page samples
Cover art: Another Dimension ... and a New Life by Wendy Page. Click here for Winchester Galleries.

Author's web address:
www.lorrainegane.com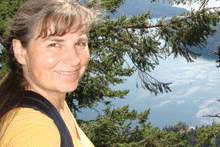 Phil Goodger photo
Poetry Lovers:
Please ask for this book at your favourite bookstore. If it is not there you can order from Leaf by clicking below.
Shipping is free.
Paypal allows for payment by Visa (no Paypal account required). Or email orders@leafpress.ca.


5.5 x 8.5 inches | 80 pp | 978-1-926655-77-2 | $17.00
The Blue Halo

by Lorraine Gane
Wars, aging, illness, death, and natural disasters are juxtaposed with luminous encounters in nature and with loved ones to awaken a deeper perception—what ancient sages have known for thousands of years and quantum physicists have discovered in the last forty: We live in a vast universe of interrelatedness where the possibilities to meet and be met by beauty are open to us in every moment.
Review Comments
"Listening is at the heart of poetry, and when the quality of a poet's listening meets things at their source, the resulting poems hold truths that cannot be denied. In The Blue Halo, Lorraine Gane enters the boundless world of things through such listening, and finds that in both nature, which she loves so deeply, and the lives of those she has held most closely — even through old age, sickness and death — beauty is at the source of all being; it is what the world reveals."
—Peter Levitt, recipient of the Lannan Foundation Award in Poetry, author of Within Within, One Hundred Butterflies, and other books of poetry and prose.
"Lorraine Gane has lived and breathed with passionate wisdom through some of the most difficult themes a poet faces: family illness and suffering, loss of home, loss of loved ones, and the tidal wave of our world's despair. Her meditations and rhythms speak the language of the natural world and offer solace and the potential for renewal; as with the seasons, the flowering and decay of flora and fauna. All distilled in beautifully crafted lines, sometimes minimalist, sometime verdant, these poems will be there for us when all else fails and we too rub shoulders with the void. Show me what remains when all else withers, she asks. And if our faith is small, let us praise what we can see. The poet provides a lens through which we imagine a fuller, more authentic life. Who can doubt something vast turns us?"
—Diana Hayes, author of This is the Moon's Work among other works of theatre, photography, and poetry.
Lorraine Gane was born in Niagara Falls, Ontario, and grew up in Toronto. In the mid-seventies she graduated from Carleton University's Honours Journalism Program, then worked as a full-time writer and editor for major Canadian newspapers and magazines until 1989, when she began freelancing. In the early nineties, she also started teaching writing at universities and colleges such as Ryerson, McMaster, and Georgian, as well as conducting her own private workshops. Selections from Lorraine's first poetry book, Even the Slightest Touch Thunders on My Skin (Black Moss Press, 2002), were shortlisted for the Canadian Literary Awards in 1997 and the League of Canadian Poets chapbook contest. Among her publications since moving to Salt Spring Island, B.C., are three chapbooks (Earthlight, The Phantom Orchid, and Beauty and Beyond: Songs of Small Mercies) and another full-length volume of poems, The Way the Light Enters (Black Moss Press, 2014). Lorraine is now working on a memoir and completing a book about writing. She mentors writers through online courses, consultations, workshops, and manuscript editing.