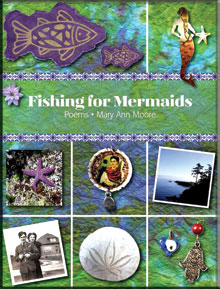 Click for Hi-Res Front Cover
Page 9
Pages 42-43
Pages 52-53
Review Excerpts:

"Moore's writing celebrates the joyously human and the mythological too … and we are never far from solemnity." Dennis E. Bolen in the Vancouver Sun. Read the whole review here.

Poetry Lovers:
Please ask for this book at your favourite bookstore. If it is not there you can order from Leaf by clicking below.
Shipping is free.
Paypal allows for payment by Visa (no Paypal account required). Or email orders@leafpress.ca.


6.5 x 8.5 inches | 112 pp | 978-1-926655-70-3 | $20.00
Fishing for Mermaids

by Mary Ann Moore
"Between the covers, the poet can levitate." Diana Hayes

"What we carry with us in this labyrinth and what we choose to shed … memories that cling ferociously to the skin, sensual and savoury wanderings of discovery that lead to the prescient centre. This is where Moore's poetry takes us … with open arms." - Kim Clark
In Fishing For Mermaids, her first full-length books of poems, Mary Ann Moore takes the reader on a sensuous journey of self discovery: as poet, as woman, as lover in worlds both near and afar. The famous and infamous appear in vignettes, tableaux and through the voices of ghosts. Pablo Neruda, Frida Kahlo and her monkey Fulang Chang, D.H. Lawrence, Emily Dickinson, Rilke, Sappho, the Queen of Sparta, all invoke the poet's desire to praise. She reminds us that Neruda spent his Nobel prize money "on mermaids and shells,/wrote odes to honour ordinary things." Moore transforms the ordinary with her uncanny eye for the radiant and hidden treasures in the garden. Many of her poems share the verdant breath of exotic plants and landscapes. Her poems are earthy, sensuous and intimate, her voice fresh, full of surprises and unexpected humour. Her poems also reveal the importance of memory, of family stories and generational secrets, all the while healing wounds in the telling. She invents a "flying nature guide called Sure-As-Morning," opens our eyes wide "in the womb of Gaia." Here the poet is inseparable from the poem's delight. Between the covers, the poet can levitate. Moore, the alchemist, transforms the ingredients of ordinary life, teaching us that we are all shape-shifting, living in this community of reflection and praise. - Diana Hayes
Praise for Mary Ann's poetry: "Mary Ann Moore's chapbook You Are Here is a magic carpet ride - from angels to oregano, from vistas of Greece and Turkey to the dimensions of Frida's bedroom. Mary Ann writes with scrupulous attention to all the precious details of both our everyday lives and the wider world. From the poet's morning to the poet's good night and all that is in between - a genuine and heartfelt book of poems." - Linda K. Thompson
Room Magazine: "These are close-up poems with lines pressing their noses to the savoury scents of the unexpected."
Mary Ann Moore lives in Nanaimo where she leads a weekly women's writing circle called Writing Life. Her circles have been described as places where unsuspecting poets are born. Mary Ann also offers a mentoring program called Writing Home: A Whole Life Practice. She writes book reviews, author profiles and personal essays including "Who I Am, Here" in Living Artfully: Reflections from the Far West Coast (The Key Publishing, 2012). Mary Ann writes a blog at www.apoetsnanaimo.ca.
Her web address is maryannmoore.ca
Photograph of Mary Ann Moore by
Lance Sullivan
Book cover design by

sarah clark design ~
things graphical and lots and lots and lots of mandalas.