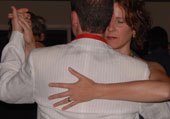 Photo by Julianna Slomka
© 2009 Karen Shklanka (from the collection Sumac's Red Arms, published by Coteau Books ... see link below)
In The Poem
I won't tell you
about how morning stretches
under the clouds on English Bay
like a bright skin, how
its edges blur tenderly into
the dark, how all moments
accordion into this one
where we touch a stranger's
fingers, how our steps echo
in the street, how you measure
this, the Pont Neuf, my stride,
how you read my back
with your hand, how my sidelong
thoughts slip by
the Seine, out of streets
of the Marais, sniff around you,
intercept a glance, a sudden
kiss before the inevitable
commutation, the door closing
and the gleaming train.

Karen Shklanka is a writer, a family physician and, with her husband, an Argentine Tango dance instructor. Her poetry was included in the 2004 chapbook anthology, Letters We Never Sent, edited by Patrick Lane. She was twice a finalist in ARC magazine's international poem contest, in 2005 and 2006, and has been published in numerous other literary periodicals. The poem is from Sumac's Red Arms, her first book, published by Coteau Books:

http://coteaubooks.ca/bookpages/SumacsRed%20Arm.htm

Born in Toronto, Karen Shklanka spent 18 years practicing rural and emergency medicine in small and medium-sized Canadian communities. She has lived in Vancouver, Australia, Regina, Houston, Los Angeles and Moose Factory, Ontario, and on Salt Spring Island. She currently serves as a Clinical Instructor in the Department of Family Medicine at UBC, and returns to being a student in September 2009 when she enters the MFA program in Creative Writing at UBC.
---