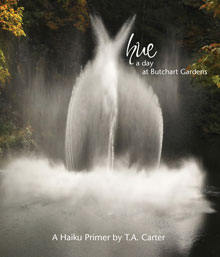 Hi-Res Front Cover
Entire Cover Spread
Pages 38-39

Terry Ann Carter's web address is terryanncarter.com
Poetry Lovers:
Please ask for this book at your favourite bookstore. If it is not there you can order from Leaf by clicking below.
Shipping is free.
Paypal allows for payment by Visa (no Paypal account required). Or email orders@leafpress.ca.


Anyone interested in joining a Victoria haiku group
(Haiku Arbutus) may contact Terry Ann at: terryanncarter3@gmail.com
4.25 x 5 inches | 52 pp | 978-1-926655-69-7 | $12.00
Hue: a Day at Butchart Gardens — a haiku primer

by Terry Ann Carter
A day's walk with a dear friend, intimate conversation and the many Aha! moments in Butchart Gardens resulted in this small book for learning to appreciate and to write haiku.
An internationally recognized haiku and tanka poet, Terry Ann Carter is the author of five lyric poetry collections and four haiku chapbooks. Lighting the Global Lantern: A Teacher's Guide to Writing Haiku and Related Literary Forms (Wintergreen Studios Press, 2011) is found in many Canadian classrooms. She participated in the Basho Festival, Ueno, Japan (2004), and has given haiku and small book making workshops at the Zen Festival in Montreal, the Cherry Blossom Festival in Vancouver, and to students in international schools in Singapore, China, Malaysia, the Bahamas. Terry Ann is the current president of Haiku Canada and teaches Japanese literary forms at Royal Roads University, Victoria.
Review Excerpt: Haiku Canada Review, 8:2, October 2014.
LeRoy Gorman, Editor
"... Hue: a Day at Butchart Gardens is beautifully produced.
Carter includes background information, references & sources for haiku, as well as the gardens. It reads believably as one side of a correspondence between the author & a younger, internet-savvy reader named Lucy. It is instructive, encouraging & informative without condescension.
I can hear Carter's voice throughout – natural, honest & clear. She deftly acknowledges the danger in naming some favourite poets (that some will be missed). She also states "…haiku do not contain messages of hope, or faith, or any kind of abstract thinking." While perhaps good advice for a beginner, this could be challenged by the work of experienced poets, which can break boundaries by being more experimental.
Does Lucy exist? In the end, much like questioning a poem written from actual events versus one written solely from the imagination, it does not matter with a result such as this. Highly recommended.
Photograph of Terry Ann Carter by
Claudia Coutu Radmore