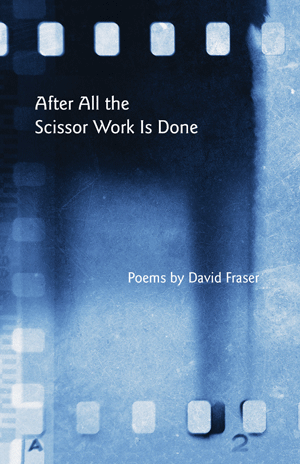 5.5 by 8.5 inches | 68 pp
978-1-926655-93-2 | $16.95
After All the Scissor Work is Done

David Fraser
Launching 1:00 p.m. May 14, 2016
VIRL North 6250 Hammond Bay Road
Nanaimo, BC.
[click] for the launch poster
[click] for sample page spread
[click] for hi res author photo

After All the Scissor Work Is Done
plays with memory, finds out what's left on the cutting-room floor. David Fraser steers away from linear narrative, edits out connections, allows the reader room. But these are not pretty pieces: the poems scrape at the dark of human experience.
"Having admired David Fraser's poetry for years as he wonderfully manages to hallow small everyday moments, After All the Scissor Work Is Done came as a surprise. It is as if David has shed a hundred skins, let everything fall away until he could see matters with a naked, raw clarity, speak of things directly and unflinchingly. The sepia of nostalgia creeps like a mist over these poems, yet the sharpness of his memories, imagined or otherwise, keeps the reader from lulling into complacency by asking that we confront, time and time again, our own human frailties and our own mortality. A brave book."
Naomi Beth Wakan,
Inaugural Poet Laureate of Nanaimo
David Fraser lives in Nanoose Bay, on Vancouver Island. He is the founder and editor of Ascent Aspirations Magazine, www.ascentaspirations.ca since 1997. His poetry and short fiction have appeared in many journals and anthologies, including Rocksalt, An Anthology of Contemporary BC Poetry, and Tesseracts 18. He has published five collections of poetry: Going to the Well, Running Down the Wind, No Way Easy, Caught in My Throat, Paper Boats, and a collection of short fiction, Dark Side of the Billboard, and On Poetry, a book on poetry and poetics, co-authored with Naomi Beth Wakan. To keep out of trouble he helps develop Nanaimo's spoken-word series, WordStorm. www.wordstorm.ca. In October 2009 and 2010 he participated in Random Acts of Poetry, a national poetry program that brought poetry to the streets of Canada. David has performed his poetry in British Columbia, Ontario, California, and Switzerland.